Here I am again up at the very northern tip of Aotearoa , Cape Reinga  lining up for my third time for this increasingly popular brevet. I am super amped and looking forward to riding through this stunning country I now call home . I was starting in wave one this year, in 2016 I was in wave 3. This years edition had 13 start dates spread out between 17 February and 8th March .
I was up on first light down at the beautiful Tapotupotu campground ,packed away my camping gear, and rode the short distance up the hill to the Lighthouse car park, our journeys starting point. I could feel the excited nervous energy as riders gathered and made final adjustments. I chatted with some familiar faces then it was 7am and we were off. I always love when I finally get rolling on a big event or race. After all the training, preparations, planning etc, I'm eager to start pedalling and get into my own rhythm .
The wind was favourable and  Ninety mile beach passed without incident. I rode with a small group all the way down the beach, chatting at times or just riding with my thoughts. After a quick stop at the shop in Ahipara I found myself  riding with old friend Cliff Clermont from USA  and Richard Walsh, a Kiwi now living in Australia .
Some nice quiet country roads and 170km's from the start brought me to the landing to catch the ferry for the short crossing to Rawene. Cliff and Richard arrived  soon after.  Mostly sealed roads weaved  past the scenic villages of Opononui and Omapere along the Hokianga Harbour. I was now heading towards  photo control point 3, the majestic Tane Mahuta, God of the forest, a giant Kauri tree in the Waipoua Forest, likely to be well over 1000 years old.
I arrived in Dargaville about 8pm for a Subway resupply with Richard before riding out as the sun set on a beautiful Day 1 on the tour. The decision was easy to  ride the extra 100km around Kaipara Harbour  instead of riding to Pouto point to catch the ferry as it was not due to leave until 3pm the next day . At 55km past Dargaville we stealth camped on the verandah of the Matakohe Museum for the 6 hour mandatory stop making it 333kms for the day.
I was feeling good on day 2 riding the rolling hills around the Harbour. I had noticed that my  Tracker was not showing on the Maprogress website, turned it off and on, and continued. At Mt Eden in Auckland I spent some more time writing emails etc trying to sort out the Tracking issue. Richard rode out of the city and I followed soon after happy to escape the traffic .This time I took the alternate coastal route to Miranda and really enjoyed the riding on a stunning evening. 6 hour stop in Miranda at the end of my second day.
Somewhere on Day 3 my tracker issue were sorted, I was a moving Dot again so family and friends could follow my progress . Another minor technical issue was also happening for me, My Garmin Etrex is normally fed off a cache battery which is in turn is fed from my Dynamo Hub via my K Lite usb charger. This was  now not working so I was having to put in lithium batteries instead. A lot of wasted time in Mata Mata and a new cache battery did not solve the issue .A battery with pass through facility is required!!  I was about  6 or 7 km's out of Mata Mata  and had to turn back to get more batteries, DOH!
I reached the next photo control point at the Centre of North Island after darkness had fallen  and camped up  further along the road around midnight with around 280km's done. Early the next morning , overcast with a heavy dew amongst the thick bush of the forest , Richard appeared.  He had stayed further back at Pureora. We soon warmed up as we climbed into the Timber Trail. This section is rugged, remote and super fun with many epic swing bridges to take you across huge lush gorges.
Richard had dropped back and I pushed on getting out to Taumarunui  just after 11am. A decent stop, breakfast and coffee was required. I called the  Whanganui River Adventures to organise the boat pick to take me from Bridge to nowhere  to Pipriki . He said  he would be at the landing at 6pm  for pick up . By the time I got supplies and sorted myself out  it was midday, meaning I had 6 hours to do the 107 kms to reach the jetboat . It was a  time trail , I pushed hard , barely  stopping, including some hike a bike up the Kaiwhakauka Track , a narrow, rooty steep section not long past Whakahoro. Thankfully the descent down towards 'The Bridge to Nowhere' was dry and fast . I reached the landing at 6 .15  and was relieved to see the boat waiting . As it turns out we ended up waiting for Richard who arrived about 35 minutes  later after himself putting in a huge effort . The trip down the river was beautiful in the evening light. A quick stop , bike clean and resupply at the pipriki river base and I was moving again as the light was fading . The fatigue was setting in on this stretch and I was grateful to get to Whanganui and get a room. I dried out my tent etc, still damp from the previous nights heavy dew  and set the alarm for another early start .
Day 5 and 6 had me traverse the dry farming landscapes from the west to east of the lower north island.Some beautiful quiet country roads with very little traffic. I had really great  weather so far , warm and sunny for the most part . I had a few people come out to cheer me on as I rode past and many small town businesses were excited to welcome  the TA riders over the next couple of months. I can imagine some places getting inundated with riders. Day 5 was a 305km day finished with a nice stealth camp on the verandah of the rugby ground building just off course in Masterton. The next day I scored  a cabin on the ferry which was great for  a nice rest up. Time for the South Island.
Leaving Picton I had  a gorgeous evening riding the Queen Charlotte road, past Havelock and Pelorus Bridge  with no reason to stop until I noticed I was losing air from my rear tyre. I was now on the gravel road leading to the Maungatapu Trail. I had a quick scan, seen nothing  so put a CO2  cannister into the tyre hoping it would re seal . Unfortunately  after 10 minutes it was flat again. Further inspection revealed a nail  sticking out of the tyre, how did I miss that? I put a plug in, then I hand pumped the tyre  as I only had the one CO2 . I did have to keep topping up every 30 minutes as it was not sealing completely, this was annoying! This was not the first time i ve went over the Maungatapu in the darkness, although it was better conditions than in the TA 2016 when I was caught in torrential rains from a passing cyclone. A late night resupply in Nelson  and I continued on until almost 2am, camping  at the domain in Wakefied, this was a long day.
The late night meant a later start than normal to accommodate the 6 hours stop. Coffee at the bakery in Wakefield and I was good to go .
The last couple of days I was noticing that my Di2 was shifting sporadically, looking like it was  a problem with a wire connection in the headtube area. I was still having to top up my rear tyre with air also. A bike shop  was now not available as I had passed through Nelson  late last night . As I neared Tapawera , my shifting had almost completely ceased. A long stop here to fix this involved taking off my handlebars etc to get inside my headtube to find the Di2 wires were crushed . Two tiny wires had to be stripped back , then twisted together and taped . I put it all back together and it was working and  thankfully it continued to work all the way to Bluff . A Further 20 km's down the Tadmoor Valley, I had to stop again.
I decided to put a tube in my rear wheel as I was losing air more and more . This turned into a bit of a nightmare. I put a new tube in , beaded the tyre and started pumping, the air was coming straight out WTF?!  I took the tube out and there was a big hole in the tube, Damn ! Stick on patches did not want to stick, sticky sealant was everywhere and it was super hot  in the mid afternoon sun  along the side of the road.A hot sticky mess ensued.   Eventually after 1.5 approx I was moving after finally getting a tube to hold the air …The ride to Murchison felt long and my legs were flat as these mechanical issues drained some energy. Thankfully after some drinks and food I was feeling more energised again as I went over the beautiful Maruia saddle, eventually camping riverside by the west bank road turn off. Most eventful day of my Tour .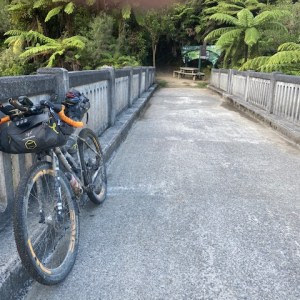 Day 8 was a fresh early morning ride over Rahu saddle and onto Reefton for coffee and food before heading into the epic Big River Section. Ive being through here 6 or 7 times now , its a tough section, not all rideable with steep rocky climbs and rooty singletrack , this is rugged mountain biking whilst on a loaded bike. From Ikamatua  I called ahead to Mann cycles in Greymouth to say I was coming to get a  rear tyre and tubeless set up again. They very kindly stayed open late to sort me out. I rolled out of Greymouth about 6pm with an intention of getting to Hokitika, 100km's away through the wilderness Trail. I arrived to to a quiet Hokitika sometime after 11pm.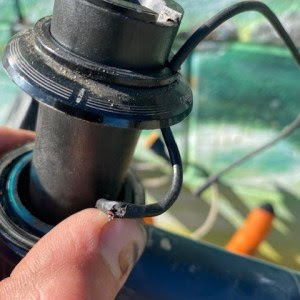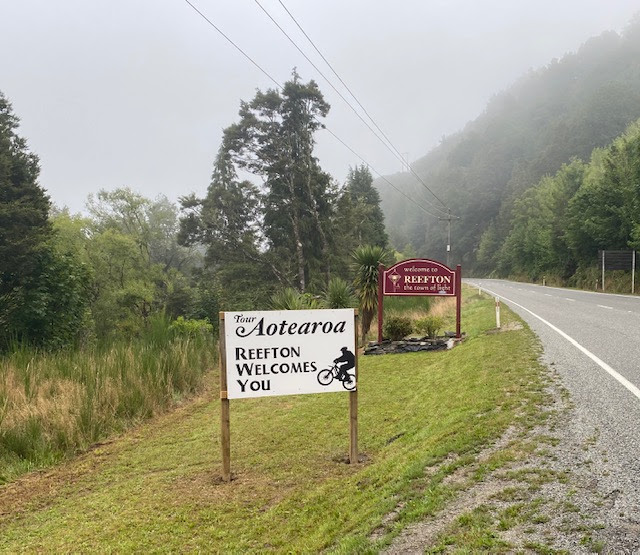 The west coast involves lots of sealed roads, this is  unavoidable for the most part as there are no other options. I don't really mind the road riding so much as long as they are not super busy and this was the case. A big day of nearly 300km got me to Haast staying at the Backpackers .
Day 9 riding out of Haast up the valley on an overcast damp morning, I was feeling very average . My legs felt asleep and I wondered how I would climb Haast Pass at this rate. Thankfully  as the day brightened, my body slowly awakened and I was feeling so much better with good energy to tackle this beautiful climb. The day did brighten into a stunning day that matched the scenery as I rode by Makarora, Lake Hawea and into Wanaka . How lucky am I to get to ride my bicycle through landscapes like whats on offer here in Aotearoa. Plans to get across Lake Wakatipu this evening did not work out  meaning my tenth night was my longest stopped time , about 11 hours.
A 7 am  charter across to Walter Peak  on my final day on the Tour, Gravel goodness and a super tailwind , even a short spell of rain meant I made good time to Mossburn. At this stage I was hopeful of catching a flight out of Invercargill  at 6.30pm. A headwind not long after Mossburn ,that persisted more or less until Bluff  meant catching that Flight would not happen. As I neared Invercargill I even considered riding off course and going to the airport to get on the plane. After a quick chat to my good wife Mary Jo, my  tired mind was put straight and I continued into the wind to finish this.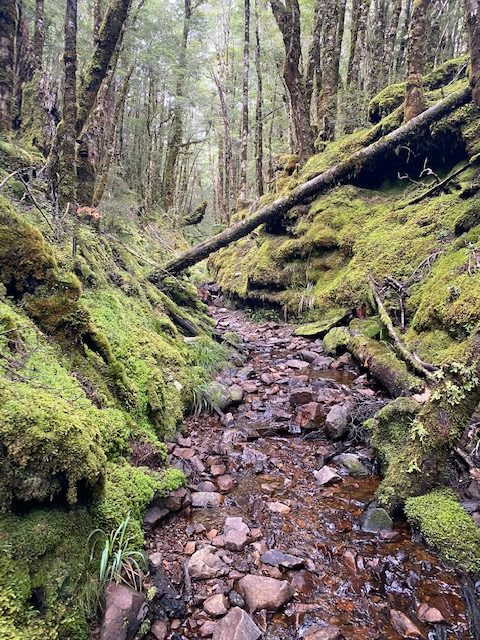 I arrived at Bluff , and was met by  a friend Fraser who lives down there. I was delighted to reach the end of this journey after 10 days and 11 hours  and about 231 kms for the last day. The headwind had definitely taken a bit out of me at the end but throughout the 3,000km's I felt strong and healthy for the most part. A few mechanical issues and a longer than planned stopover in Queenstown were the only things that disrupted my flow. Delighted to have completed another adventure. I stayed at Frasers that night, had a good catch up, shower and food  and up early for a re arranged flight to Christchurch.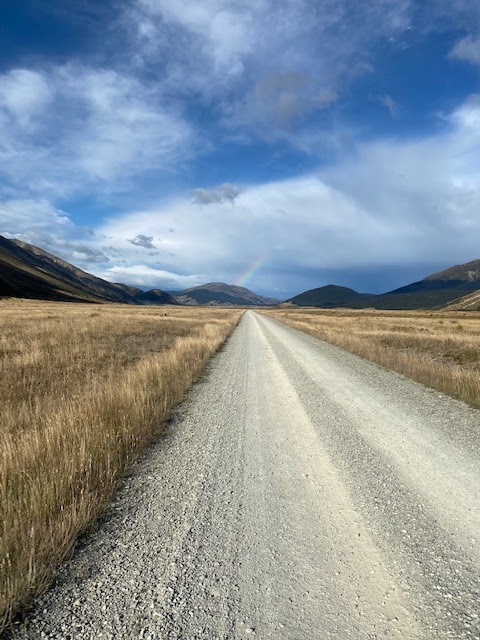 17th February – Depart Cape Reinga at 7am. 27th February – Arrive Bluff  6.55pm
Overall I really enjoyed my ride down the country. I was privileged to be part of this Brevet with hundreds of others taking part. I do not know of any other bikepacking event worldwide that has gained such interest. Talking with small business owners  on course , I was told that many people are riding the route or parts of it at times other that the TA. This is really cool. A huge amount of gratitude must go to the Kennett Brothers for their tireless efforts in creating this route and keeping it updated .
Anyone thinking about riding this course should definitely do it. If you can make the time you will not regret it. Hundreds and hundreds of magical stories are created by taking on challenges like this. Adventures like this revive your spirit and revitalise your soul, and then you will want to continued exploring. Its very likely that I will once again line up to ride the Land of The Long White Cloud in the years to come . In the meantime  I've got lots of other adventures to keep me interested.
More Gratitude and love to my supporting wife, Mary Jo. Our business and my sponsor Vibrant Living Retreat, and the team Chara and Josefiina who all looked after everything brilliantly as I followed my joy riding my bicycle over long distances through breathtaking vistas. Thank You, Thank You, Thank You!!!
A little side story to all this was that I was on a mission to get to Bluff between 10/11 days as I had tickets to a concert  in Auckland on the 28 and 29th Feb. TOOL, my favourite band for many years were playing two shows , and there was no way I was going to miss this. I met Mary Jo in Christchurch, we flew to Auckland and had an awesome weekend.
TOOL were simply incredible in case you were curious
KEEP PEDALLING 
Words and pictures – Steve Halligan
Vibrant Living Retreat
  88 Rippingale rd
  Hanmer Springs, 7334
  New Zealand.
  021 280 2442